What we did: Consulting, Corporate Identity, Name and Brand Development, Logo Design, Visual Appearance, Web Design, Interior Design, Event Management, Social Interactions Management

Drinking coffee at home without washing up! This sweet little cafe in a lovely restored Art Nouveau villa in Seeheim-Jugenheim, near Frankfurt, called "Zuhause" — which means "home" or "to be at home" — was started by our company's owner Anette Waldeck in 2010.

The Interior Concept
It's a unique and wonderful place with dollhouse flair — the kind of living room you want to have: Grandma's tiled stove, retro furniture, and all that in a small nostalgic house. In the summer, there are tables and chairs in front of the entrance. In the winter, the place fascinates with its cozy Advent charm. It is a very successful, coherent overall concept, which not only invites you to relax and enjoy a comfortable and stylish atmosphere but also offers creative minds a place of inspiration and encounter. It all somehow reminds a little of Astrid Lindgren's books...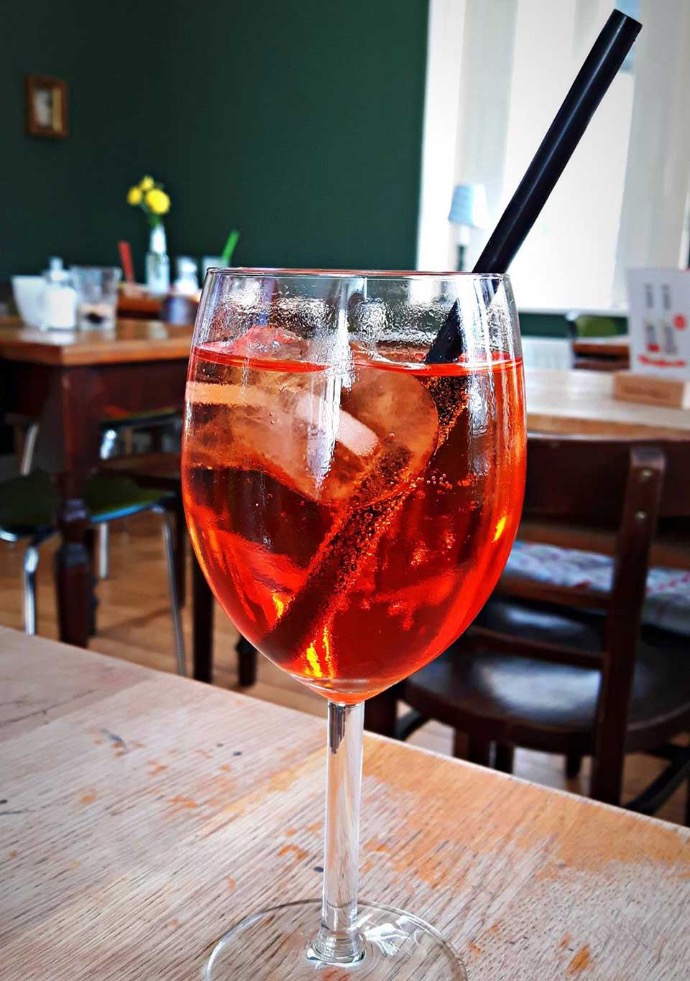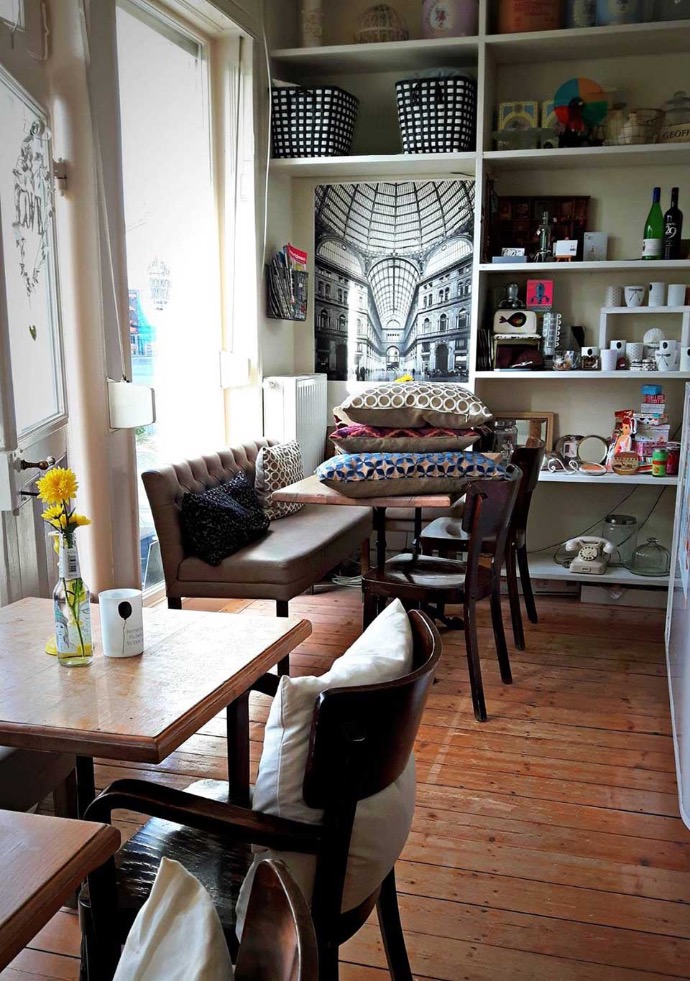 The Corporate Concept
There is always enough for everyone on the small but delicate menu: What is exceptional here is the excellent selection of vegan cakes, dishes, and drinks. In addition to the Italian lunch table, the cafe, which is set in a former colonial goods store, also serves homemade soups and Mediterranean meals. Delicious treats await you, homemade cakes and pies made from organic and fair trade, carefully selected local products — the café creations: a dream! An atmosphere of friendliness, warmth, dedication, and passion can be felt! You can just let go and indulge in your daydreams: Like a short vacation on the vacation road "Bergstraße".
The Corporate Strategy
Regular events such as living room concerts, readings, and workshops offer cultural enrichment for young and old. In the integrated Zuhause store, one can buy Scandinavian shelf beauties made of porcelain from Bloomingville or Housedoctors and treat oneself and others with home accessories and small souvenirs. Organic Peruvian Fairtrade coffee made from locally roasted espresso beans can be purchased as an in-house brand.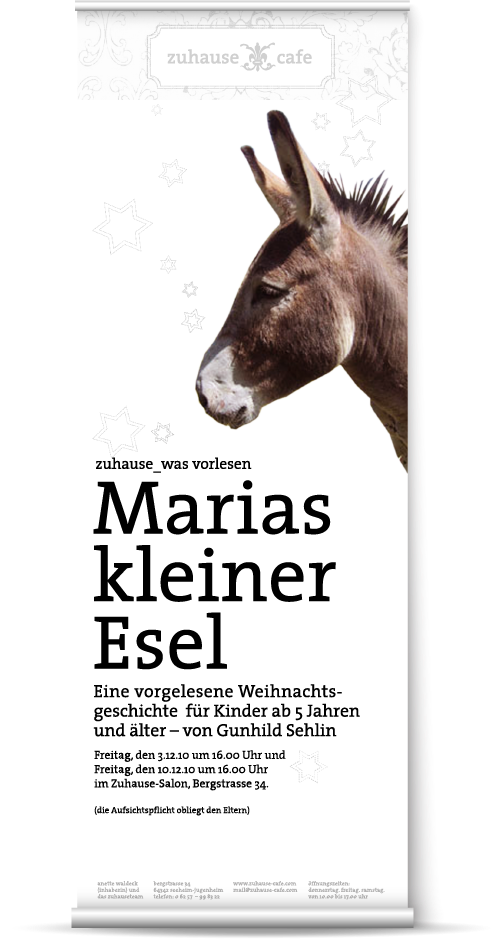 Loon* mediavision is responsible for the entire concept, fr om the idea to the implementation, including corporate identity, interior design, and all print and advertising efforts.

Corporate Strategy

Loon* mediavision established Zuhause Café in 2010 and developed a holistic business strategy for a successful implementation in the market.
Corporate Design
Our company developed a coherent corporate identity with a unique visual language and a recognizable overall visual concept for the Zuhause Cafe. After an interior makeover and modernization in 2016, we also redesigned the color concept along with the corporate identity to be more trendy, contemporary, and better suited to the target group.
Production and Implementation
Together with the Zuhause cafe staff, our team has built the premises from the ground up. Our company has taken over the entire planning, calculation, construction, and construction management and has designed the cafe as a whole: From the overall concept and interior with equipment, etc., to the development of the menu and offered dishes.
Event Management
All events organized at the Zuhause Café, such as workshops, readings, concerts, jam sessions, DJ nights, dances, and cultural events, were developed, prepared, organized, and supervised by our team: From the strategic planning to the development and execution of all promotional activities, to the staging of the events, and follow-ups. We made it happen.

Vorherig
Nächste
Creation of a Cultural Value
Our implementation of this café represents a valuable cultural asset in the founding place of our company Loon* mediavision. The regular evening events we have established, such as the Open Jam Sessions, provide a wonderful atmosphere of inclusion, hospitality, and belonging. Much more so: The entire surrounding community has been able to participate actively in these events. Here, we have also integrated our company values.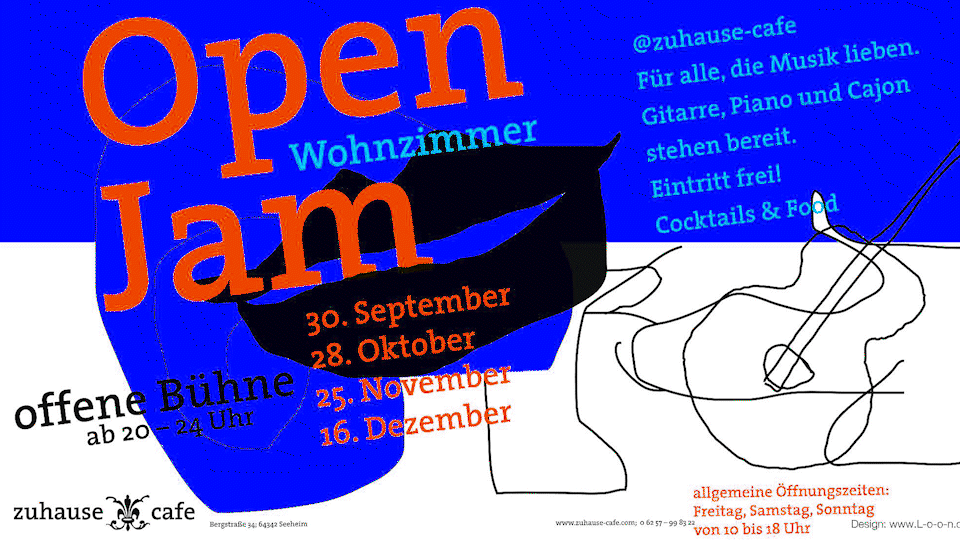 Due to the current situation, the cafe is closed.
Check out our other projects: